Mary Shelley - Christopher Wren
Non-Conformist & Non-Parochial Records
Case Study - Mary Shelley
Mary Shelley (born Mary Wollstonecraft Godwin) was born in London on 30th August 1797. Her mother died when she was eleven days old, and afterwards she and her older half-sister were raised by her father. He provided her with a rich education.
In 1814, she began a romatic relationship with Percy Bysshe Shelley, and they married in late 1816 after the suicide of Percy Shelley's first wife. With his encouragment, Mary wrote her first (and most famous) novel, Frankenstein: or, The Modern Prometheus. It was first published in 1818.
After moving to Italy in 1818, the couple devoted their time to writing, reading, learning, sightseeing, and socialising - never staying in one place for too long. Their Italian adventure was, however, ruined with the deaths of their two children.
Mary gave birth to her fourth (and only surviving) child, Percy Florence, in 1819, which finally lifted her spirits. Unfortauntely tradgedy was just around the corner - her husband, Peter Shelley, drowned when his sailing boat sank during a storm in the Bay of La Spezia in 1822.
A year later, Mary Shelley returned to England and from then on devoted herself to her son and a career as a professional author. She wrote many novels and promoted Percy Shelley's poetry through the years, before passing away at the age of 53. She was buried at St Peter's Church, Bournemouth.
Her birth record can be found at www.BMDRegisters.co.uk in a Protestant Dissenters' Registry: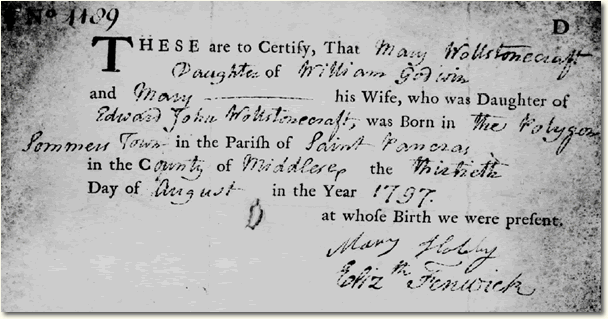 (Click to see full image, from BMDRegisters.co.uk)