| | | |
| --- | --- | --- |
| | | |
| | Search over 8 million records for free on the Official Non-Conformist website, www.BMDRegisters.co.uk. | |
| | | |
Non-Conformist & Non-Parochial Records
What are Non-Conformist Records?
Birth, marriage and death records are the most important way of tracking down your ancestors. The trouble is the BMD records in the General Register Office civil registration index only go back as far as 1837. Non-conformist and non-parochial records pre-date civil registration and form an invaluable tool.
Non-Conformist records are records of birth, baptism, marriage, death and burial taken from non-parish sources. The official website BMD Registers (in association with The National Archives) has over 8 million records and includes various unpublished registries from 1534 to 1865, which can usually provide records of three generations of a family or more.

What Non-Conformist religions can be found?
At BMD Registers, you can find records for: Methodists, Wesleyans, Baptists, Independents, Protestant Dissenters, Congregationalist, Presbyterians, Unitarians, Quakers (Society of Friends), Dissenters and Russian Orthodox. Also included are Maternity Records, Overseas Records, Early Birth Registers plus various other BMD records.
The National Archives describe BMD Registers as: "Listing over 8.25 million entries from 1636 to 1950, this unique and wide-ranging record set contains maternity records, Fleet marriages, births, marriages and deaths aboard ships, non-conformist records, and many others." (Read the full article at the National Archives website.)

What information will I find on a record?
Information varies on each record. Take, for example, birth records - these usually include the date and place of birth, name of child and parents names. More extensive birth records can also carry information like maternal and paternal grandparents, witnesses, and the minister's name.
A number of records were laid out in tables in books, like the example below. Again, information varies for each record, depending on what the minister recorded at the time.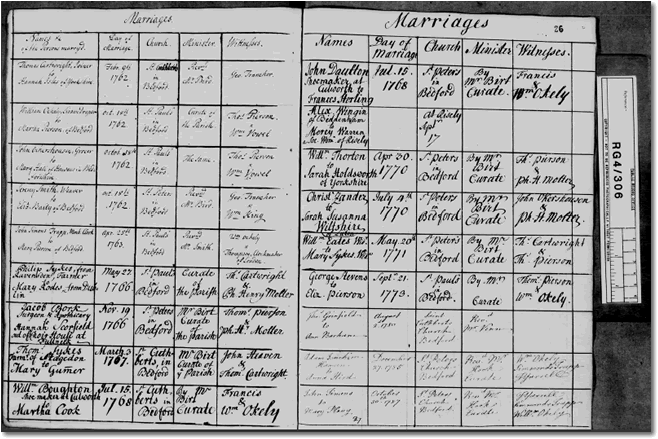 Above: an example of marriage records from 1762, from BMD Registers.